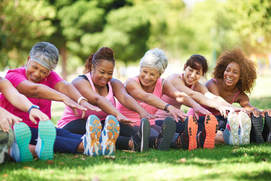 Our philosophy is in YOUR best interest. The MORNING program has a 'push yourself to the limit' style. Each class offers a boot camp style that moves to intense abdominal work then concludes with a 30 second yoga pose. The yoga class focuses on alignment, safe transitions, and correction with positive feedback from the instructor. Age group: 30-70. The EVENING program concentrates on all forms of exercise each evening. Muscle strength, agility, balance, cardiac output and mental relaxation are key. We know how to work out and have fun. Age group: 45-70+.

Jenk Center: None of us like to think of ourselves as 'old' so while the age number belies our youth it does NOT define our need and want to be healthy. Jenks is NOT about old people. Judy and Gail believe that Jenks is an inviting, wisdom-filled place where you can supplement your workout if our days/nights may not work for you some weeks. A number of people in our Winchester Aerobics program go to Jenks, as well.

Mornings: Ballet Arts, 50 Cross Street Evenings: Town Hall

---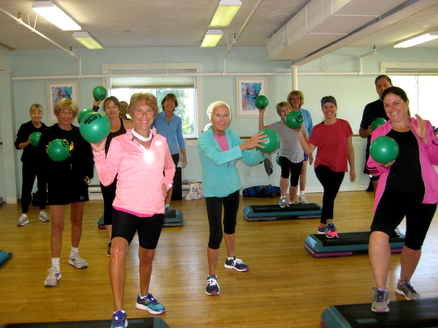 • Group Fitness

MUSCLE CONDITIONING:
The staple of any exercise program; firm and tone all muscle groups. We incorporate weights and resistance bands in an intensive workout where you can ramp it up or decrease intensity to achieve your fitness goals. Proven to increase your bone density.

STEP:
Straightforward, easy to follow steps are combined with balanced arm movements and timed to rhythmic current music. A tried and true aerobic workout.

HI/LOW AEROBICS:
Every 10 weeks we spice up your workout with different music genres to keep you on your toes. A great cardio workout to the best boogie tunes from bebop to hip hop, Latin to Bollywood. Worried about your knees? We'll show you the low impact version that will still get your heart rate up.

PILATES with BARRE:
Stretch and strengthen muscles with emphasis on spinal stabilization and flexibility, and abdominal strengthening. Work and relax at the same time. Added benefits when combined with Muscle Conditioning.

YOGA:
Link your breath with movement in this slow flow yoga class. We come together each week to explore yoga postures, get grounded, build strength and flexibility, and have a bit of fun! Class focuses on proper alignment in a light-hearted, non-competitive and supportive environment. Appropriate for all levels.
Anyone attending Lena's Friday yoga class on a regular basis may want to bring a large towel (bath size towel, beach towel, or small, lightweight blanket) to class. It can be a useful prop for seated and kneeling postures and to coverup during Savasana.



• Personal Training

For one-on-one attention or small group training, Director and Certified Trainer Judy Whitney, specializes in personal training in your home or in the studio setting. During the initial one hour home visit, the trainer assesses your fitness needs and goals. A fitness plan is devised and the frequency and times of workouts are selected. Judy utilizes equipment a client has on site, such as a treadmill, weights, etc., or she brings a selection of portable equipment.

An example of a session for someone seeking to lose weight and enhance muscle tone would be as follows:

5 minutes - warm up

30 minutes – cardiovascular training using machines or aerobic moves, climbing stairs, etc.

20 minutes – strength training using weights/bands/Pilates method

5 minutes – cool down by stretching and Yoga


Personal training is a great option for someone with a medical condition who needs specific modifications to a traditional exercise program or for the client who prefers individualized instruction.

Feel free to consult with Judy Whitney about your needs by calling: 781.729.1599 or emailing her at: JudithAWhitney@gmail.com


FOREVER FIT ~ A NEW WELLNESS PROGRAM FOR ADULTS 60+ FUNDED BY A GENEROUS GRANT FROM THE DANA HOME FOUNDATION continues..
Learn more about this exciting new program, taught by Judy Whitney, personal trainer with over 30 years experience in the fitness industry. "Forever Fit" will provide individual assessments followed by one on one and small group personal training sessions on Monday and Wednesday afternoons. Whether your goal is to develop strength, improve balance or increase flexibility, this program is available to assist you. Our approach is first to d3velop a rapport with you in an attempt to better understand what your individual needs are. Together, we will formulate realistic and attainable goals and work with you to reach these goals. For Lexington residents only. For more information please contact Judy Whitney at Winchester Aerobics. judithawhitney@gmail.com or 781-729-1599
• Jenks Center 50+Fitness Forever

A muscle conditioning class that focuses on upper and lower body strengthening and stretching routines with added emphasis on spinal and gait stability. This class involves both seated, standing and reclining exercises (optional), all timed to oldies and current tunes. Modifications are provided, as needed. Tuesdays (3:20-4:30p) and Thursdays (3:30-4:30p). Drop in rate of $5.

Dance Fever Fitness

This toe-tapping class is a low impact, high energy workout. Movie tunes, Broadway hits, Latin music, Bollywood moves, oldies and old oldies will bring back memories and energize you for future activities. Refreshing cool down rounds out the afternoon. Fridays, 3:00-3:45p for $5 drop in rate.